Voters List Kerala – Search Election Voter List by Name/Card Number/House Name
The updated Kerala Voters List is released by the Kerala State Election Commission on the official web site of Chief Electoral Officer (CEO). The people can check/search the Kerala voters list 2015 from the web site www.ceo.kerala.gov.in. The search can be done by voter name, Electoral Photo Id Card Number, House Name etc.
Kerala Voter List 2015 | Check/Search Panchayat Election Voter List 2015 Online
Kerala State Election Commission has released the latest/updated Voters Name List on their official web site. All the people can check and verify Voter name by Online through the web site of Chief Electoral Officer.
Check Voter List Online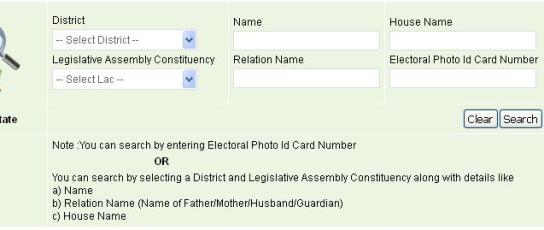 Follow these steps to check the Kerala voter list online ( Electoral Roll Search ) | Voter ID Card Status Check
1. Visit the web site www.ceo.kerala.gov.in/rollsearch.html
2. Select District and Assembly Constituency
3. Enter the Any of the Name / House Name / Card Number/ Relation Name
4. Click on Search Button
5. The search result will be displayed
6. To get details of the a particular item click on "IdCard No" column.
Tags: Kerala Election Voter List 2015, Election Voter Name Search, Kerala Voters List 2015, Electoral Roll Search, Check Voter List Online