VHSE Trial Allotment Result 2019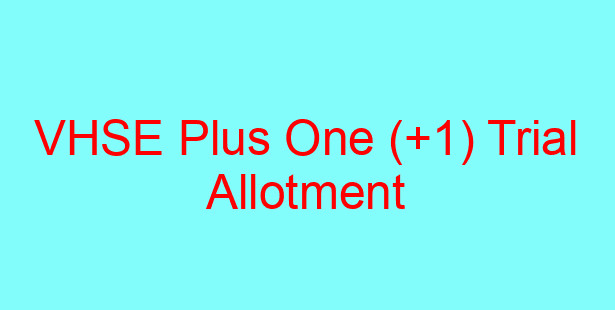 VHSE Trial Allotment Result 2019 - VHSCAP Allotment Results, VHSE Trial allotment, Kerala VHSCAP Trial Allotment Results, VHSE +1 Trial Allotment Results 2019, VHSCAP VHSE Trial Allotment List, VHSCAP +1 Allotment result 2019
Kerala VHSE Trial Allotment Result 2019 / VHSCAP Allotment Result / VHSE +1 Trial Allotment list will be published soon. The Trial Allotment Result for the first year VHSE (+1) admission for Plus Two courses in the Government / Aided Vocational higher secondary schools in Kerala will publish on VHSCAP web site www.vhscap.kerala.gov.in. The candidates can check their VHSE Trial Allotment Result online through vhscap.kerala.gov.in.
Kerala VHSE Trial Allotment Result 2019 - VHSCAP +1 Allotment
There are lot of students already registered for the Kerala VHSE Plus One Admission 2019-20. A lot of more students are still in the process of getting the admission in VHSE courses in Kerala.
VHSE Trial Allotment Result expected to be published on May 20, 2019
VHSCAP Trial Allotment 2019: How it is useful for the applicants
The Trial Allotment list / Result 2019 is the list of candidates who are eligible to get admission in Kerala VHSE Courses in the vocational higher secondary schools. The Trial Allotment Result will not assure any real allotment or admission to the students, but it gives a clear idea for the students , how they are ranked and how they are getting a chance to included in the First Allotment Result or future Allotments. VHSCAP 2019 Trial Allotment Result will be prepared based on the scores obtained in the qualifying examination and the options of school subject combinations registered by the candidates at the time of VHSE plus one application form registration and other weight age credits if any (ref: prospectus).
After checking the Trial Allotment Result and find the position of candidate in the trial allotment list, they can review their current options registrations in school subjects combinations, and they can think about what are the changes required to make on the current options to improve the rank position.
VHSE Trial Allotment Result 2019
The candidates who applied for VHSE plus one admission can check their result online by the following steps:
How to Check VHSE Plus One (+1) Trial Allotment Result 2019
1. Visit the Kerala VHSCAP 2019 web site www.vhscap.kerala.gov.in
2. Click on the link "Trial Allotment Result 2019". A page will be displayed to enter the login credentials.
3. Enter the Application Number and Date of Birth and submit to login to the site.
4. Check the Result now.
Kerala VHSCAP VHSE Options Registration 2019
After publishing the VHSE Trial allotment, the candidates will be getting a chance to update their current options registration or add a new options. After updating the
options registration VHSE Board will declare the First Allotment Result at www.vhscap.kerala.gov.in.
Similar Titles :
VHSE Plus One Trial Allotment Result 2019
VHSE Trial Allotment Result 2019
VHSE +1 Trial Allotment 2019
VHSE Plus One Trial Allotment 2019
+1 Trial Allotment Result 2019
VHSE Plus 1 trial Allotment
VHSE +1 Trial Allotment Result 2019