Kerala Nursing Registration Renewal Application - KNMC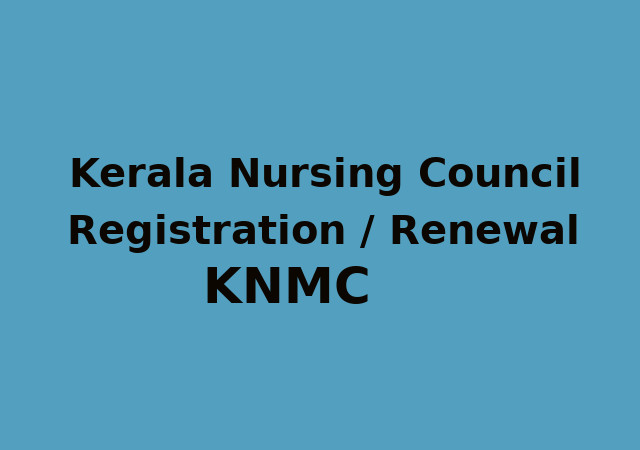 Kerala Nurses and Midwives Council (KNMC) invited online application for renewal of KNMC Registration.
The candidates who have got registration certificate (ANM, GNM, BSc Nursing) in the period of 01/01/1990 to 22/07/2014 can renew their Nurses and Midwives Council (KNMC) Registration online. The Online registration facility is available at www.knmc.org.
The details of online registration will be available from the web site .
Kerala Nurses and Midwives Council (KNMC) Renewal of Registration
Kerala Nursing Council KNMC Renewal of Registration Certificate - Instructions
Candidates follow the steps for Renewal :
Enter the site : www.knmc.org
Application should be submitted through the link "Renewal of KNMC Registration Certificate"
Complete the following steps :
1. Enter the registration details
2. Payment (Online / Challan)
3. Application print out
KNMC Registration / Renewal Application
After the completion of above 3 steps applicants should sent the printout of application form, fee remittance chalan / online payment slip and copy of Registration Certificate to the following address.
The Registrar,
Kerala Nurses and Midwives Council,
Red Cross Road, Near General Hospital,
Thiruvananthapuram- 695 035
Application for Renewal(01/01/1990-22/07/2014)
KNMC online application for Renewal : click here
KNMC - Kerala Nursing Registration link
Kerala Nursing Council Registration Instructions download
Titles:
Kerala Nurses and Midwives Council (KNMC) Registration
Kerala Nursing Council Registration
Kerala Nurses and Midwives Council (KNMC) Renewal Registration