PSC LGS Shortlist 2018 - District Wise Result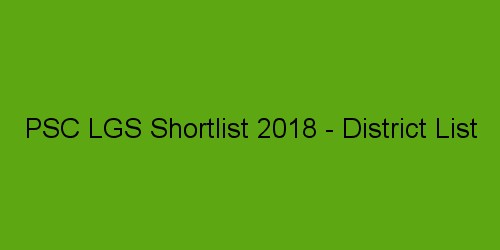 PSC LGS Shortlist 2018 - District Wise, PSC Last Grade Servant Short List 2018, PSC District Wise LGS Short List 2018, LGS Exam Result 2018 (Category No : 071/2017), KPSC Last Grade Rank List 2018, Kerala PSC Last Grade Servant (LGS) Exam Result 2018 / LGS Shortlist for Thiruvananthapuram, Malappuram, Thrissur, Kollam, Kottayam, Ernakulam, Kasargod, Alappuzha, Pathanamthitta, Kannur, Wayanad, Idukki, Kozhikkode and Palakkad Districts
Kerala PSC LGS Exam Results 2018 / LGS Short List 2018 (Category Number : 71/2017) expected to be published on May, 2018. KPSC District Wise Last Grade Servant short list / Probability List 2018 will be published soon. After the official announcemment of LGS Short list /resultst by PSC, candidates can download / check their rank details from the KPSC Official website www.keralapsc.gov.in->shortlists.
Kerala PSC LGS Probability List 2018 / Short list - All Districts
Kerala PSC has conducted the Last Grade Exam at 14 districts during December, January months in 2017. Large number of candidates had appeared the LGS exam in each districts. Candidates can access the Last Grade district wise / name wise LGS short list/ results from PSC website www.keralapsc.gov.in by using the registration number or through PSC OTR Profile.
Name of Post : Last Grade Servant
Department: Various Department
Category No : 071/2017
Kerala PSC Last Grade Servant (LGS) Short List 2018 Published date:
Candidates can download the 14 districts Last Grade Servant (LGS) Exam Results 2018 from PSC site.
LGS Short List 2018 Thiruvananthapuram
LGS Short List 2018 Kollam published
LGS Short List 2018 Pathanamthitta
PSC Last Grade Servant Short List 2018 Alappuzha
PSC Last Grade Servant Short List 2018 Kottayam
PSC Last Grade Servant Short List 2018 2018 Idukki
LGS Short List 2018 Ernakulam
PSC Last Grade Servant Short List 2018 2018 Thrissur
PSC LGS Short List 2018 Palakkad published
PSC LGS Short List 2018 Malappuram
PSC LGS Short List 2018 Kozhikode
LGS Short List 2018 Wayanad
LGS Short List 2018 Kannur
LGS Short List 2018 Kasargod
PSC LGS Shortlist 2018 - All District
For more details visit :www.keralapsc.gov.in