PSC Meter Reader Exam 2020 Hall Ticket,Syllabus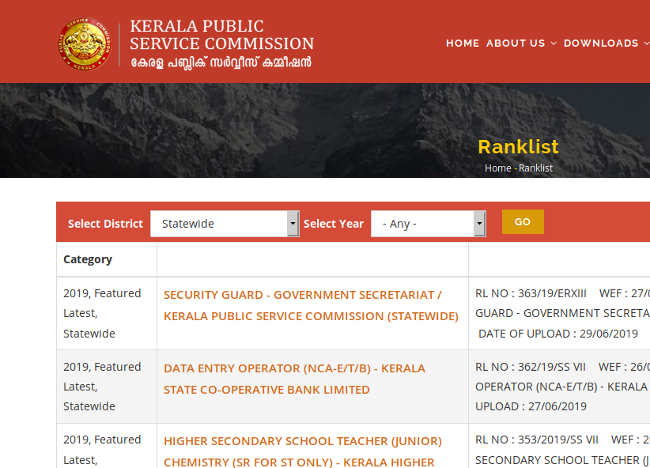 Kerala PSC Meter Reader/Spot Biller April Exam 2020 Hall Ticket Download, PSCMeter Reader Exam (KSEB) Syllabus 2020, Download PSC Hall Ticket, Download Meter Reader Hall Ticket / Admit card, PSC Meter Reader Exam 2020 Sample Questions/ Model Questions/ Previous Question Papers, Kerala PSC Exam Syllabus 2020
Kerala PSC Meter Reader Exam 2020 will be conducted on 7/4/2020, Thursday by Kerala Public service Commission. The KPSC will be conducted the exam on April 7, 2020 at 7:30 AM to 9:15 AM. The category number of the PSC Meter Reader/Spot Biller (Kerala State Electricity Board) post is category No : 557/2014.
Download PSC Meter Reader Exam 2020 Hall Ticket
All the candidates who are applied to the Kerala PSC Meter Reader Exam 2020 can download the Admission Tickets/ Hall Ticket through their One Time Registration Profile in the Website www.keralapsc.gov.in from 23/03/2020. The PSC Hall ticket is a required document to attend the PSC exam in the Examination Hall.
Download Kerala PSC Meter Reader Exam 2020 Model Questions/Previous Questions Papers / Answer Keys
Kerala PSC Meter Reader Exam 2020 sample questions can be downloaded from the PSC web site. The Answer key of the Meter Reader exam will be published after the examination held on 7/4/2020.
Kerala PSC Meter Reader / Spot Biller Exam Syllabus
PSC Meter Reader Exam will be an Objective Type Test (OMR Valuation) based on the qualification prescribed for the post. The Maximum Marks for the exam will be 100 marks and the duration will be 1 hour 15 minutes.
The PSC Meter Reader Exam Syllabus for the PSC exam in April is as follows
PART I A: BASIC ELECRICITY
Matters, atomic structure, electric circuits and its types, ohms law, law of resistance, specific resistance, temperature co-efficient series and parallel connection of resistors, Kirchhoff's
laws, Wheatstone's bridge causes of fire due to electricity and its extinguishing methods safety precautions. Hand tools, wires.
PART I B: AC FUNDAMENTALS
Definition of AC terms, AC and its advantages, AC through resistance, inductance, capacitance,inductive reactance, RL, RC, RLC series and parallel circuits, power and power factor,
comparison of single phase and 3 phase system, Interconnection of 3 phase system, Necessity of high power factor and its improvement.
PART I C: MAGNETISM
Properties of magnet, types of magnet, important definitions, magnetic materials, hysteresis loss, determination of the direction of magnetic flux produced around a conductor, solenoid, its field and polarity, faraday's laws of electromagnetic induction, Lenz's law, eddy current, self inductance, mutual inductance, capacitors, different types of capacitors, connection of capacitors, electrolysis, faraday's law of electrolysis, Primary cells, secondary cells and special cells.
PART I D: ELECTRIC MACHINES:
Transformer- single phase –construction,type, losses, efficiency, regulation 3 phase- connections, parallel operations, parts, cooling, oil testing AC motors- single phase, classification, application 3 phase motors- types, slips, speed change, types of starter, application, torque, losses and efficiency. AC generators-parts, synchronizing DC generators- parts, characteristics, types, applications, efficiency, EMF equation DC motor- parts, types, 2 point starter, 3 point starter, 4 point starter.
PART I E: INSRUMENTS& EARTHING
Classification, MC & MI meter, dynamo type wattmeter, static wattmeter, multimeter, megger,Ohm-meter, earth tester, power factor meter, frequency meter, energy meter single phase and 3 phases.
Necessity of earthing, rules for earthing, plate earthing, pipe earthing, earth resistance values
PART I F: GENERATION, TRANSMISSION & DISTRIBUTION
Generation, types of generating stations, History Transmission- O.H. lines, U.G. cables, Insulators, poles& towers, lines protecting equipments, circuit breakers. Distribution- isolators, ELCB, MCB,ACB,OCB,Different types of switches, different types of
electrical accessories Laws of illumination- carbon filament lamp, metal filament lamp, mercury vapour lamps, sodium vapour lamp, fluorescent lamp.
PART II: BASIC ELECTRONICS
Semiconductors, Diode, Transistor, IC, OPAMP, FET, SCR, UGT, DIAC, TRIAC, Opto electronic components, rectifier, filters, amplifiers, transistor connection, basic computers, basic digital electronics.
PART III: APPLIED MECHANICS & HEAT ENGINE
Stress, strain, metals, ores, purification, burnouses, alloys, malleability, ductility, tempering, hardening, annealing, bending moment, shearing force, I.C. engines, E.C. engines, two stroke, four stroke, diesel engine, petrol engine, cylinder arrangement.
PART IV: GENERAL KNOWLEDGE, CURRENT AFFAIRS & RENAISSANCE IN
KERALA
General Knowledge
Facts about India
--------------------
Geography of India – Physical features – Climate – Soils – Rivers – Famous sites – etc.
Demography – Economic and social development – Poverty alleviation – Economy and
planning – etc.
History of India – Period from 1857 to 1947 – National movement
Facts about Kerala
Geographical Facts – Physical features – Climate – Soils – Rivers – Famous sites – etc.
Renaissance in Kerala
Important Events/Movements/Leaders:
Brahmananda Swami Sivayogi, Chattampi Swami, Sree Narayana Guru,
Vagbhatananda, Thycaud Ayya, Ayya Vaikundar, Poikayil Yohannan (Kumara Guru), Ayyankali, Pandit Karuppan, Mannathu Padmanabhan, V.T. Bhattathirippad, Dr. Palpu, Kumaranasan, Vakkom Moulavi, Blessed Kuriakose Elias Chavara, Etc.
Current Affairs
Important world, national and regional events related to the political and scientific fields, sports, cinema and literature etc.
For more details visit: www.keralapsc.gov.in
Related Titles:
Kerala PSC Meter Reader Exam 2020
Kerala PSC Meter Reader Exam Syllabus
Download PSC Meter Reader Exam Hall Ticket/Admit Card
Download PSC Meter Reader Previous Questions / Sample Questions