PSC Staff Nurse Grade II Rank List 2020 - Staff Nurse Ranklist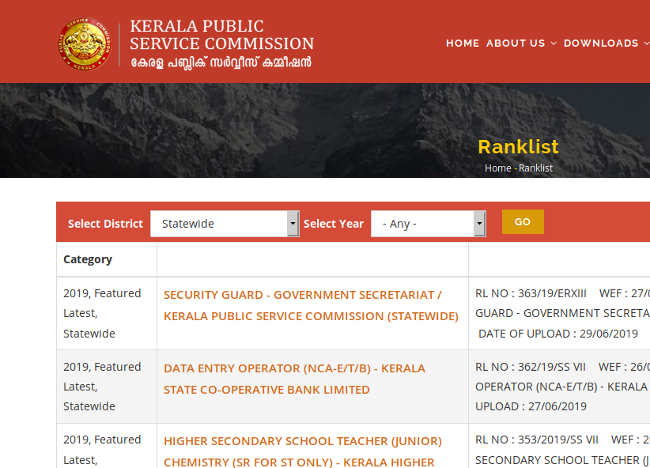 Kerala PSC Staff Nurse Grade 2 Rank List 2020, PSC Staff Nurse Grade II Rank list, PSC Staff Nurse Rank List 2020, PSC Staff Nurse Statewide Shortlist, PSC DME Staff Nurse Ranklist 2020 on www.keralapsc.gov.in, PSC Staff Nurse cat: 068/2013 Rank list
Kerala PSC Staff Nurse Grade 2 Rank List 2020
Kerala PSC Staff Nurse Rank List 2020 (Category Number 068/2013 ) published on www.keralapsc.gov.in. Kerala PSC has conducted the Staff Nurse Grade 2 exam to select candidates for the post of Staff Nurse Grade II in medical education department. After the publication of staff nurse short list, Kerala PSC interviewed the short listed candidates, and on the basis of this interview, PSC has published the list of suitable candidates for the post of staff nurse.
PSC Staff Nurse Rank List 2020
The Staff Nurse Rank list 2020 can be downloaded from official web site of PSC. Staff Nurse Grade II (2) Main List and Supplementary List are available in the Kerala Public Service Commission website. The staff nurse rank list page will show your rank, name, register number, marks and other details.
How to Check Staff Nurse (DME -Medical Education Department) Rank List 2020
Enter the site www.keralapsc.gov.in
Click on the link "Ranklist"
Download / view the staff nurse grade 2 rank list 2020
This Ranked List is brought into force with effect from 29-06-2020
PSC Staff Nurse Rank List : Photocopy of OMR answer sheet
Candidates who wish to obtain a photocopy of their OMR answer sheet (Part A & Part B) relating to this selection shall remit the fees of Rs.300/- in any of the Treasuries in the State (head of account : 0051PSC-800-StatePSC-99-otherreceipts). And apply
within 45 days from the date of approval of this ranked list (on or before 13/08/2020).
More details visit : www.keralapsc.gov.in
Other Titles:
Kerala PSC Staff Nurse Grade 2 Rank List 2020
DME Staff Nurse Grade II Rank list
PSC Staff Nurse Rank List 2020
PSC Staff Nurse Statewide Shortlist
PSC Staff Nurse Ranklist 2020 on www.keralapsc.gov.in
PSC Staff Nurse cat: 068/2013 Rank list
Kerala PSC Staff Nurse Rank List 2020