VHSE Plus One (+1) First Allotment 2020 [Check Result]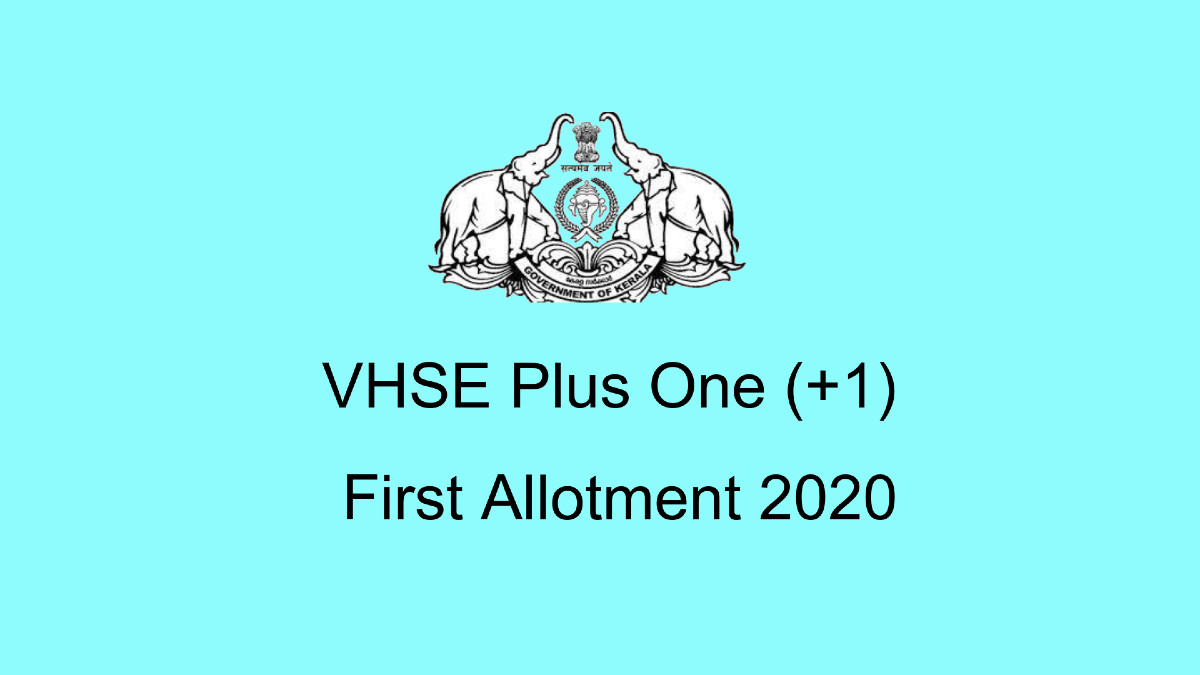 VHSE Plus One (+1) First Allotment 2020 [Check Result], Kerala VHSE First Allotment Result 2020, VHSE Allotments, vhscap.kerala.gov.in, VHSE Plus One First Allotment Result, VHSE First Allotment, vhse first/second allotment, VHSE / DHSE Allotment Results 2020, Kerala VHSE Plus One admission
VHSCAP VHSE Plus One First Allotment Result 2020
VHSCAP VHSE First Allotment Result 2020 will be published on 14-09-2020. The vhse first allotment result 2020 for vocational higher secondary school first year admission can be accessed from vhse official web site www.vhscap.kerala.gov after the publication of the result. The candidates who have applied for Vocational Higher Secondary plus one admission 2020-21 can check their allotment result by login with their application number and password.
Kerala VHSE VHSCAP First Allotment Result
Kerala VHSE already published a trial allotment on 5-09-2020 and then allowed the vhscap candidates to make corrections/modification of application data and the options registration. After this modification of application data and the options re-arrangements, the Kerala VHSE First Allotment Result 2020 are ready to publish on 24th May.
How to Check VHSCAP First (1st) Allotment Result ?
The vhse applied candidates can follow these steps to view vhse first allotment result from www.vhscap.kerala.gov.in:
Visit the site www.vhscap.kerala.gov.in
Click on VHSE First Allotment Result 2020 link
Enter the application number and date of birth and click on submit button
The Allotment result will be displayed in the home page
VHSCAP Kerala VHSE First Allotment
The VHSE First Allotment Result is the list of eligible candidates allotted for sure admission to plus one courses in Vocational Higher secondary schools in Kerala. The allotted candidates should have to report to the allotted higher secondary schools to secure their allotment and admission in plus one classes.
If the candidate who are not included in the first allotment list, they would wait for the next allotment results published. The candidates who got allotment with lower options, they would take a temporary admission without fee and wait for other allotments to get a better option. After published the other main allotments they should take permanent admission with the remittance of required fee.
The students who got allotment in the vhse first allotment can take admission as a temporary admission or permanent admission. The students who got the allotment in first option can pay the fee amount and take admission, If the fee amount is not paid within time they will not get admission in other times.
Students got the allotment in second or other options may opt for temporary admission. They must report to the Principals of the schools with the related documents and take admission, they do not need to pay fee amount for temporary admission. The students who take the temporary admission can make changes in options within the specified time and wait for allotment in the next VHSCAP VHSE Allotments
If the student got allotment in lower option and satisfied with that allotment in lower option can remit the fee and take permanent admission and then cancel the higher options if any.
VHSCAP Plus One Allotment Dates :
| | |
| --- | --- |
| Organization Name | Kerala Vocational Higher Secondary Plus One Admission 2020-21 |
| Admission Type | VHSE Allotment Admission / Single Window System (Ekajalakam) |
| Academic Year | 2020-2021 |
| Selection Procedure | Merit Seats |
| Plus One Admission 2020 Online Application Start Date | 29.07.2020 (July 29th, 2020) |
| Last Date for Plus One (+1) Admission | 14.08.2020 |
| VHSE Trial allotment 2020 Date | |
| VHSE First allotment 2020 Date | |
| VHSE classes start date | |
| Plus One Admission and Allotment site | www.vhscap.kerala.gov.in |
Other Titles :
VHSCAP VHSE Admission 2020
Kerala VHSE First/Second/3rd Allotment
VHSCAP First Allotment Result
Kerala VHSE First Allotment Result 2020
Kerala VHSCAP First Allotment Result 2020
VHSE +1 1st Allotment 2020