ITD Job fair - Spectrum Job Fair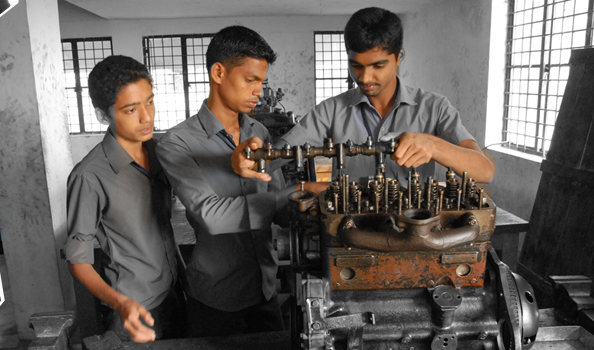 ITD Job fair - Spectrum Job Fair (Thozhil Mela) is a mega job fest in Kerala organized by ITD Govt. of Kerala (Industrial Trianing Department). The Spectrum 2 Jobfair exclusively for the students who have completed training from Industrial Training Institutes (ITI) in Kerala, it will be held in all the districts of Kerala in November and December.
The covered districts for the Spectrum Jobfair in Alappuzha, Ernakulam, Idukki, Kannur, Kasargod, Kollam, Kottayam, Kozhikode, Malappuram, Palakkad, Thrissur, Wayanad, Pathanamthitta, Thiruvananthapuram.
Spectrum Job fair - ITD job fair
Spectrum Job fair / ITD Job Fair is open to recent alumni students only. The candidates who have completed training from Industrial Training Institutes ( ITI ) in Kerala can participate in this Job Fair in Kerala. The students must have to complete online regisration for Spectrum Job fair through the ITD Job fair portal www.det.kerala.gov.in.
How to apply for Spectrum Job fair - Online Registration
The candidates who like to participate for Spectrum Job fair/ ITD Jobfair must have to register their application on ITD job portal www.itdjobfair.in. Candidates can follow these steps to register online;
Enter the web site www.itdjobfair.in/candidates
Click on the Candidate registration Button
Enter the details and submit registrer button.
Follow the steps as shown in the page.
You could login with your user id and password that you used to register. After login tyo the portal, you have to update your profile to view job vacancies. You need to upload passport photograph only of size upto 500KB & resume of size upto 2MB.
ITD Job Fair - Spectrum ITD Job Fair (Thozhil Mela)
Find a suitable Job and apply
After login to the web site you could see all the available jobs under the "Job Fairs" menu.
Click on Apply button of the relevant job that you like to apply.
You could apply for as many jobs opportunities as you like.
How to attend the ITD Job Fair
The candidates should take a print out of his profile from the job fair portal and bring it at the time of attending the job fair.
Candidate must have to bring all the necessary documents like resume, educational qualification proof, experience proof, ID& Address proof, and photographs at the time of test/interview.
ITD / Spectrum Job fair Result
The appeared candidates can check their Spectrum Job fair Interview result / status from the web site. They could login to the portal and look on the Selection Status. menu. The interview / selection status will be displayed there.
If the candidate did not get a job in the interview they can apply for the future jobs again. They could kame changes in the profile data if needed. For more details visit: http://itdjobfair.in
Spectrum II Jon Fair Dates and Schedule
| | | | |
| --- | --- | --- | --- |
| Place | Date | Address | Contact |
| Malappuram | 22 Nov 2017 - 23 Nov 2017 | GOVT. ITI AREACODE, Malappuram | 9446885406, areacodeiti@gmail.com |
| Palakkad | 30 Nov 2017 | GOVT. ITI MALAMPUZHA, Palakkad | 9400226771, govt.itimalampuzha@yahoo.com |
| Ernakulam | 04 Dec 2017 - 05 Dec 2017 | GOVT. ITI KALAMASSERY, Ernakulam | 8281068970, itikly@gmail.com |
| TVM | 06 Dec 2017 - 07 Dec 2017 | GOVT.ITI CHACKAI, Thiruvananthapuram | 9496260504, theprincipalititvpm@gmail.com |
| Kottayam | 06 Dec 2017 - 07 Dec 2017 | GOVT. ITI ETTUMANOOR, Kottayam | 9446814367, itiettumanoor@yahoo.co.in |
| Kollam | 08 Dec 2017 - 09 Dec 2017 | GOVT ITI CHANTHANATHOPE, Kollam | 9388879840, itichanthanathope@gmail.com |
| Thrissur | 12 Dec 2017 - 13 Dec 2017 | GOVT. ITI CHALAKUDY, Thrissur | 9020318232, coe.itichalakudy@gmail.com |
| Kannur | 12 Dec 2017 | GOVT. ITI KANNUR, Kannur | 9447849080, itikannur07@gmail.com |
| Alappuzha | 12 Dec 2017 - 13 Dec 2017 | GOVT. ITI CHENGANNUR, Alappuzha | 9495537256, iticgnr@gmail.com |
| Kozhikode | 14 Dec 2017 | GOVT. ITI KOZHIKODE, Kozhikode | 9847344744, itikkdgeneral@gmail.com |
| Idukki | 16 Dec 2017 | GOVT. ITI KATTAPPANA, Idukki | 9846266551, itikattappana@rocketmail.com |
| Kasaragod | 19 Dec 2017 | GOVT. ITI KASARAGODE, Kasaragod | 9495617167, kasaragod.iti@gmail.com |
Related Titles:
Job Fair in Kerala
ITD Job Fair Kerala
Spectrum II Job fair
Spectrum 2 Job fair
ITI Jobs in Kerala
Spectrum Job fair
ITD Spectrum Jobfair
Spectrum Job fair Kerala