Calicut University Degree Admission UGCAP 2020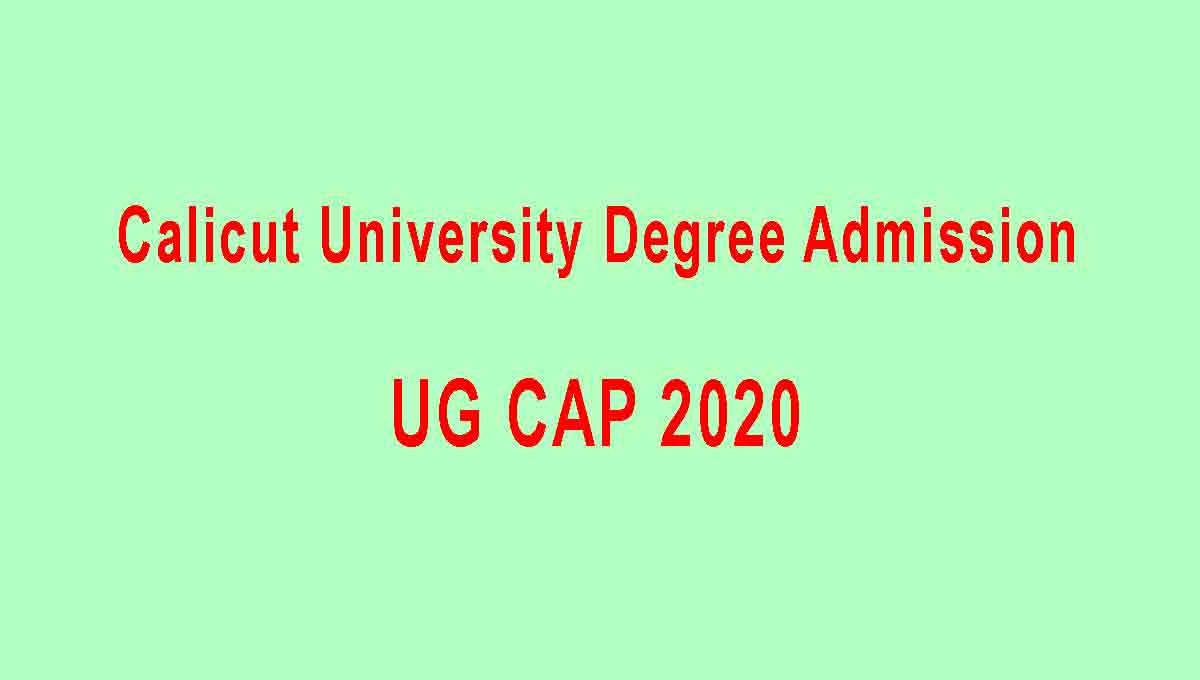 Calicut University Degree Admission UGCAP 2020 has been started, Calicut degree admission 2020, Calicut university degree online application, Calicut UGCAP Allotment 2020, Calicut degree trial/first/second allotment
Calicut University Degree Admission UGCAP 2020 Online Registration has been started. The candidates who are looking for admission to under graduate programmes under the university of Calicut can apply online through www.cuonline.ac.in. The Calicut university UGCAP 2020-21 online registration last date will be 17.08.2020, 05.00 PM. Calicut university graduate programmes will be available in the branches of BA, BCom, BSc, BBA, BCA, BHA, BTHM etc
Calicut University Degree 2020 UG CAP application Registration
Last date for online registration: 17.08.2020, 05.00 PM
The last date for fee payment: 17.08.2020, 05.00 PM
Calicut university Degree admission eligibility
the candidates who are "Eligible for Higher Studies" as per the Higher Secondary Examination or a pass in the equivalent examination.
Candidates who have qualified the HSE and VHSE of the Government of Kerala under 'SAY' scheme and Compartmental Examination of CBSE are also eligible for admission to first year degree courses in the same academic year.
University Of Calicut UGCAP 2020 Registration
The admission to the UG programmes under Calicut university will be conducted through the centralized admission process ( CAP ).
The registration will be conducted in Two continuous Phases :
Phase 1 : Online Fee Payment
Online Registration Fee :
For General category candidates : Rs 280/-
For SC/ST :Rs 115/-
The fee payment for online registration can be remitted upto 17.08.2020. The Payment of fee for online registration can be made only through e-payment system (SBT online/Nodal Centers functioning in Affiliated colleges/Friends Janasevena kendram/Akshaya kendras).
Online Fee Payment (through e-payment system)
Phase 2 : Submission of Application (Online Registration):
The application submission is done in Four steps.
Step 1: Photo Upload - Passport size photograph in '.jpg' format with a size between 20KB and 40 KB
Step 2: Student Profile- The candidates should have to enter the basic and personal details of the profile.
Step 3: Qualification Details
Step 4: College Course Selection
After final submission the candidates can take a final "Print Out" ( College copy and Student Copy). The student copy shall be retained and the college copy shall be submitted to the college where he/she takes permanent admission.
Calicut University Degree Admission 2020 Application
Calicut University UG CAP 2020 Trial Allotment Result
Calicut University Degree (UG) CAP admission Trial Allotment Result 2020 will be expected to publish on September at www.cuonline.ac.in. Calicut University UG CAP Trial Allotment 2020 Result will be published on the basis of the options registered by the candidates. CU UG CAP 2020 trial allotment is the list of candidates who are eligible to get allotment based on the current registered options. The UG trial allotment result gives an idea for the candidates about their chances of getting allotment.
Calicut University Degree UGCAP Online Application 2020
Calicut University Degree UG CAP First (1st) Allotment Result 2020
Calicut University UG First allotment result will be expected to publish on September. Calicut University Degree First Allotment result is the sure list of candidates who got allotment for admission to Calicut university degree programmes under the university.
Calicut University UG Degree Admission - Online Registration : Click Here
More details visit : www.cuonline.ac.in
Similar Other Titles :
Calicut University Degree Admission 2020 - UG CAP
Calicut University UGCAP Application form
Calicut University BA/BCom/BSc Degree Admission 2020 UGCAP registration
Calicut University UG CAP Allotment result
CU Degree CAP Admission 2020 Registration
Calicut University UGCAP 2020 Trial Allotment Result