LBS Paramedical/DPharm Rank List and Trial Allotment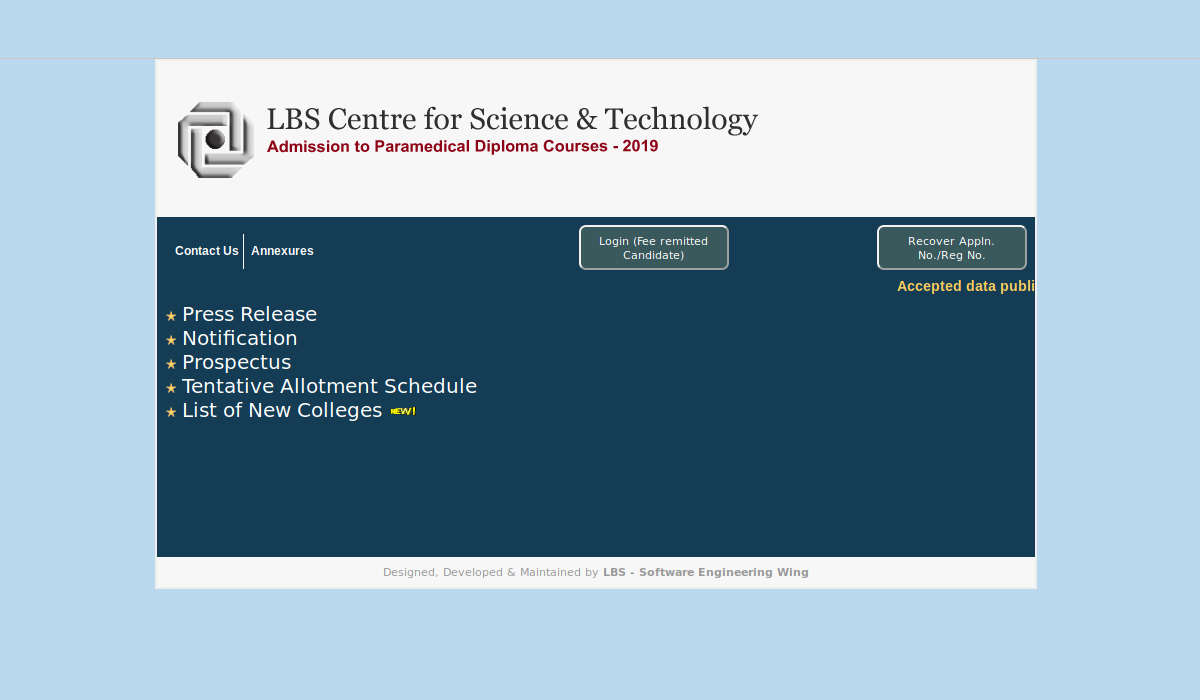 LBS Paramedical/DPharm Trial Allotment Result 2019 and Rank List,Kerala LBS Paramedical/Health Inspector Diploma Trial/First Allotment Result 2019, Pharmacy/Health Inspector Diploma Allotments, LBS Paramedical Diploma Admission 2019 Trial Allotment result
Kerala LBS Paramedical/DPharm Pharmacy/Health Inspector Diploma trail allotment result 2019 and rank list will be published on LBS site www.lbscentre.in. The Paramedical/DPharm Pharmacy/Health Inspector trial allotment result 2018 will be published on October 23rd 2019. The applied candidates can check their rank list for admission to paramedical courses by online through www.lbscentre.in
LBS Paramedical/DPharm Pharmacy/Health Inspector Admission 2019 - Trial Allotment list published. Last date of option registration for first allotment is 13/11/2019, 3:00 PM.
Kerala LBS Paramedical/DPharm/Health Inspector Diploma Trial Allotment Result 2019
The rank list of the paramedical admission 2019 has published by LBS. All the candidates must have to check their ranks from the paramedical rank list.
The Kerala LBS Paramedical/DPharm /Health Inspector diploma rank list 2019 wil be published on 21.10.2019 at www.lbscentre.in web site. The trial allotment only shows the chances of getting allotment in the first allotment on the basis of rank / index marks and the options registered by the candidates.
The candidates will be able to make changes in their options after publishing the trial allotment to get a better ranks in the first allotment result.
How to Check Paramedical/DPharm/Health Inspector Allotment Result 2019
The various paramedical diploma courses conducted for 2019-20 listed here
LBS Paramedical/HI/Dpharm Ranklist 2019
Diploma in Pharmacy (D.Pharm)
Diploma in Health Inspector (DHI)
Diploma in Medical Laboratory Technology (DMLT) Course
Diploma in Radiological Technology (DRT) Course
Diploma in Ophthalmic Assistance (DOA) Course
Diploma in Dental Mechanics (DMC)
Diploma in Dental Hygienist (DHC)
Diploma in Operation Theatre Technology (DOTT) Course
Diploma in Cardiovascular Technician (DCVT) Course
Diploma in Neuro Technology (DNT)
Diploma in Dialysis Technology (DDT)
Diploma in Endoscopic Technology (DET)
Diploma in Dental Operating Room Assistance (DORA)
Diploma in Respiratory Technology (D Resp.T)
Other Titles:
Kerala Paramedical/DPharm/ Health Inspector Diploma Trial Allotment 2019,
LBS Paramedical Diploma Rank List/Index Mark 2019 ,
LBS Paramedical Diploma Trial/First Allotment 2019,
Kerala LBS Paramedical Diploma Trial Allotment Result 2019,
Pharmacy/Health Inspector Diploma Allotments