58th School Kalolsavam 2018 at Thrissur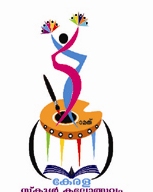 58th Kerala school kalolsavam 2018 will be held in Thrissur. The Kerala State School Kalolsavam 2018 at Thrissur scheduled to be held in thrissur from 6 to 10 January 2018. The main venue of the Kerala School Kalolsavam will be the Thekkinkadu Maidan / Swaraj Round Ground.
There are a total of 25 venues near to swaraj round will be used to conduct this 58th School Kalolsavam. The Kalolsavam programme commitiee office will be working on Model Girls HSS, Thrissur.
Kerala School Kalolsavam 2018 - Programme Venue and Schedule
58th Kerala School Kalolsavam main venue is Thekkinkadu Maidan, Thrissur. The complete details of the Kalolsavam venues/stages and details listed here.
Thekkinkad Maidam, Thrissur
CMS HSS, Thrissur | Vivekodayam HSS, Thrissur
Sangeetha Nataka Academy Hall, Thrissur
Josepth Mundassery Hall, Thrissur | Jawahar Balabhavan Thrissur
Holy Family HSS, Thrissur | Yacobite Church Hall, Thrissur
Holy Family HS, Thrissur | Town Hall Thrissur
Sahitya Academy Hall Thrissur | Fine Arts College Thrissur
Govt. Training College, Thrissur, Model Boys HSS, Thrissur
Secreate Heart Girls HSS, Thrissur | St. Claires HSS Thrissur
St. Claires LP School Thrissur , Thekke Nada Thrissur
St. Thomas College HSS Thrissur | Ramavarmapuram Police Academy
School Kalolsavam Result 2018
School Kalolsavam results will be announced immediate after each programme is completed. The students would get the Kalolsavam live result from this web site. The School kalolsavam results are categorised as HS General, HSS General,HS Arabic, HS Sanskrit. School wise result, Individual, district wise result ect are available
Kerala State School Kalolsavam 2018 Result
Other Titles:
Kerala State School Kalolsavam Schedule
School Kalolsavam Dates and Venues
Kalolsavam Thrissur Vanues
58th School Kalolsavam, 58th Kerala School Kalolsavam
School Kalolsavam Dates, Kalolsavam Venues
58th School Kalolsavam Result, Kalolsavam Result