Kerala Pharmacy Council Online Registration Renewal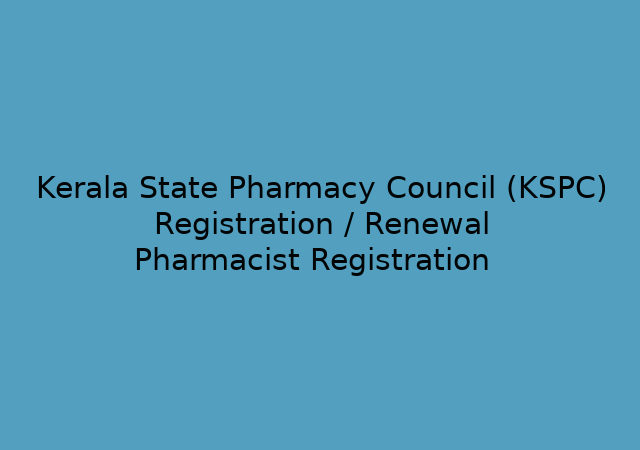 Kerala State Pharmacy Council Registration, Kerala Pharmacy Council Online Registration details, www.kspconline.in, KSPC Registration Renewal Application
Kerala State Pharmacy Council (KSPC) has arranged facilities for online Registration and Renewal of KSPC Pharmacist Registration. All registered Pharmacist in Kerala should have to renew their pharmacist registration online through KSPC official website. The details of Online Registration is available at www.kspconline.in. KSPC Pharmacist Registration Renewal Online
The candidates who are registered in Kerala State Pharmacy Council can renew their pharmacist registration through www.kspconline.in. The registered candidates can check the renewal list from the official web site of KSPC http://www.kspconline.in/.
How to do Pharmacist Online Renewal Registration
log on to www.kspconline.in
Enter your registration number as username, and date of birth as password. (for eg: your date of birth is 25/12/1987 you have to enter as 25121987
After logon, candidates an edit their profile and then go to the renewal of registration.
Kerala State Pharmacy Council Registration Renewal Instruction
As per Pharmacy Act Section 34, all Pharmacist should renew their registration before 31st December every year. The State Council should publish the List of Pharmacist soon after the 1st day of April every year. KSPC Renewal List 2020 is available at www.kspconline.in.
The Pharmacist can renew their registration by submitting the application and paying Rs. 50/- as renewal fee. Those who have opted NRDS (Non-refundable Deposit Scheme) scheme should submit a request for renewal before 31st December in every year. They are exempted from paying renewal fee. KSPC grants a grace period from 1st January to 31st March for renewal of registration to those who could not make it before 31st December.
For more details and online pharmasist regitration visit : Online Pharmacist Registration
KSPC Renewal List 2020 : Kerala Pharmacist Registration Renewal List 2020
kspconline Registration and Renewal - Pharmacy Council
Similar Other Titles :
Kerala State Pharmacy Council Pharmacist Registration Renewal,
Pharmacy Council Renewal Registration
Pharmacist Online Renewal Registration
KSPC Online Registration Renewal for Pharmacist
Pharmacist Registration Certificate
Kerala Pharmacy Online Registration