Nursing Recruitment for Kuwait MOH/UAE/UK - Norka/ODEPC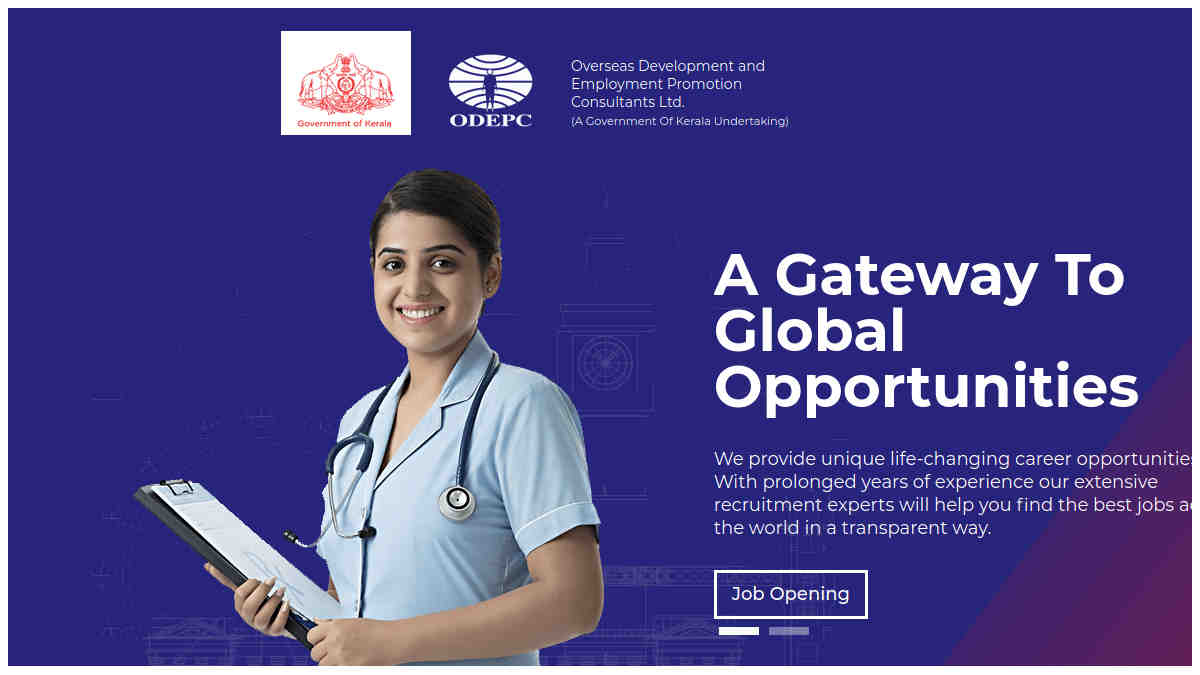 Nursing Recruitment ODEPC/Norka for Kuwait, UAE, UK, Bahrain (New Update), Norka root Nursing Recruitment, ODEPC Job Vacancies, ODEPC Recruitment, Norka Nursing Registration, ODEPC Nursing Recruitment, Nursing Vacancies in Kuwait MoH and UK, Norka-Roots Nursing Job Vacancies.
Norka Roots and ODEPC Recruitment News and New Job Vacancies : Norka and ODEPC Nursing Recruitment for selecting Nurses for Ministry of Health ( MOH ) - Kuwait, UK, Saudi Arabia, UAE, Bahrain, Qatar, Malaysia, Qatar, Singapore, Bahrain, Maldives, Sultanate of Oman and Ireland will be started soon. The major sectors to which ODEPC recruits are Engineering, Health Care, Sales, Marketing, and Construction etc.
The eligible candidates who were registered in Non-Resident Keralites Affairs Department (Norka Roots), Overseas Development and Employment Promotion Consultants (ODEPC) and the Overseas Manpower Corporation run by the Tamil Nadu government can apply for the Nursing and other healthcare professionals Job in Gulf, Middle Eastern countries and European Countries. There are expected to be filled around 1000 nursing and other job vacancies recruitment through this organization every year. There is a consensus that only a nominal amount may be charged from candidates for jobs in the MOH as recruitment fee.
Nursing Job Recruitment through Norka and ODEPC
The candidates who are registered in Norka Roots, ODEPC and Overseas Manpower Corporation Tamilnadu can apply for the comming Nursing Recruitment for the Nursing vacancies in MOH Kuwait, UK, UAE and other private hospitals in Kuwait and Other countries.
Nursing Job - Eligibility
B.Sc Nurses/ICU/ER Nurses : The candidates should be a graduate in BSc Nursing and have a two years experience in Nursing.
Staff Nurses : Nursing Diploma or Degree with minimum 6 month experience
Norka Roots Registration
Norka-Roots obtained recruitment license from Ministry of Overseas Indian Affairs to recruit manpower from India to overseas countries. The Nursing candidates who are looking for overseas job can register their names to Norka Roots Job Portal.
Latest ODEPC Jobs Recruitment 2020 :
Staff Nurses for NHS Trust, United Kingdom
Qualifications: Nursing Diploma or Degree (minimum 6 month experience)
B.Sc Nurses (Female) for Home Care Centres, UAE
Qualifications: BSc Nursing (minimum 2 year experience)
ICU/ER Nurses urgently required for United Arab Emirates
Qualifications: BSc Nursing (minimum 2 year experience)
NORKA Roots/ODEPC Jobs
| | |
| --- | --- |
| Job Name | Nurses / Docotors/ Paramedical Proffesionals / Engineers |
| Organzation Name | ODEPC / Norkaroots |
| ODEPC Registration Site | www.odepc.kerala.gov.in |
| Norka Portal | www.jobsnorka.gov.in |
New Update - Latest ODEPC Recruitment Notification / Norka Job News: Latest ODEPC Recruitment Notification details
Other Tags:
Nurse Recruitment for Kuwait MoH, ODEPC Recruitment, ODEPC Jobs, Nursing Recruitment to Kuwait, Vacancies for Nurses in Kuwait, Gulf Recruitment for Nurses, Norka-Root Recruitment, ODEPC Job Vacancies and Jobs.