PM Kisan Samman Nidhi Sheme giving Rs 6000 to small and marginal farmer families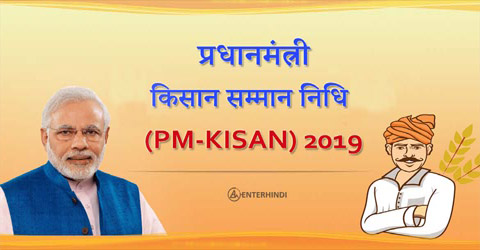 PM Kisan Samman Nidhi Sheme giving Rs 6000 to small and marginal farmer families per year in three equal installments
Kisan Samman Nidhi, Prime Minister Kisan Samman, PM Kisan Samman,Kisan Samman 2019, PM Farmers scheme 2019, Kisan Samman nidhi Application, Kisan Samman Aplication in Kerala PM Kisan Yojana
PM Kisan Samman Scheme is the most popular Kisan scheme from India Government that helps the small farmers to motivate on their agriculture. Under the scheme, Rs 6,000 will be given per year to small and marginal farmer families having combined land holding/ownership of up to two hectares. The amount will be given in three installments of Rs 2,000 each and will be transferred directly to the bank accounts of beneficiaries through the direct benefit transfer (DBT) scheme.
The aim of this PM-KISAN scheme is to supplement the financial needs of small and marginal farmers in procuring various inputs to ensure proper crop health and appropriate yields. The first installment of Rs 2,000 will be transferred to the selected farmers within this financial year.
Important features of this PM Kisan Samman
PM KISAN is a Central Sector scheme with 100% funding from Government of India
It has become operational from 1.12.2018.
Under the scheme an income support of Rs.6000/- per year in three equal installments will be provided to small and marginal farmer families having combined land holding /ownership of upto 2 hectares
Definition of family for the scheme is husband, wife and minor children.
State Government and UT Administration will identify the farmer families which are eligible for support as per scheme guidelines.
The fund will be directly transferred to the bank accounts of the beneficiaries.
The first installment for the period 1.12.2018 to 31.03.2019 is to be provided in this financial year itself.
Limitations / Exclusions of this Scheme
(i) Former and present holders of constitutional posts
(II) Former and present Ministers/ State Ministers and former/present Members of LokSabha/ RajyaSabha/ State Legislative Assemblies/ State Legislative Councils,former and present Mayors of Municipal Corporations, former and present Chairpersons of District Panchayats.
(III) All serving or retired officers and employees of Central/ State Government Ministries /Offices/Departments and its field units Central or State PSEs and Attached offices /Autonomous Institutions under Government as well as regular employees of the Local Bodies
(Excluding Multi Tasking Staff /Class IV/Group D employees)
(iv) All superannuated/retired pensioners whose monthly pension is Rs.10,000/-or more
(Excluding Multi Tasking Staff / Class IV/Group D employees) of above category
(v) All Persons who paid Income Tax in last assessment year.
(vi) Professionals like Doctors, Engineers, Lawyers, Chartered Accountants, and Architects registered with Professional bodies and carrying out profession by undertaking practices.
PM Kisan Samman scheme web site
Kisan Samman Nidhi Eligibility
All Indian farmer families having cultivable landholding up to two hectares, whose names appear in the land records of States/UT as on February 1, 2019, are eligible for the PM Kisan Samman Nidhi Scheme.
Kisan Samman Application Registration in Kerala
Kisan Samman Application can be submitted to all the krishibhavans in Kerala. The applicants must have to submit adhar card, land tax receipt, bank details etc along with the Kisan Samman Nidhi Application.
Documents for Kisan Samman Nidhi Aplication
The applicant must have to submit the Government approved ID proof, Aadhar card, bank account details, and land records along with the application of PM Kisan Samman Application 2019
Ration Card Application In Kerala
Titles:
PM Kisan Samman 2019, Kisan Samman Nidhi Application, Kisan Samman Aplication Registration, Kisan Samman first installment, Kisan Samman Nidhi Kerala Application 2019